Content Management (CMS)
What's the point of having a website if you can't keep it up to date? Hiltonian Media has developed a Content Management System from scratch to ensure that it meets the demands and needs of all our customers.
In fact, it is so powerful, we prefer to call it a Content Management Platform.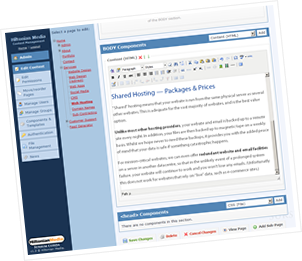 Sursum Corda is Hiltonian Media's powerful and innovative Content Management Platform and is available both to our own clients and those of other website developers as a hosted application, which means no complicated installation or configuration as it resides on our servers.
Sursum Corda allows you to take complete control over your website and the flexibility to operate it the way you want. The software is capable of running everything from a small, static website to a complete e-commerce or social-networking application.
Features and Pricing
Basic
Standard
Premium
E-Com…
Licence Fee

(ex VAT)

£

250

per year

£

500

per year

£

800

per year

POA

Setup Fee
The setup fee largely depends on the scale of your website, and whether Hiltonian Media is your website developer. In most cases, the setup fee will be included in the price of your website, and the first year's licence fee will be waived!
Features
No software installation required
Easy-to-use content editing

Basic

Unlimited pages and page depth
Powerful templating mechanism
Designed for Web accessibility
Modular framework
Search-engine friendly, hierarchical URLs
Bronze hosting package included
Users, Security and Access Permissions
Unlimited Users
Advanced permission management system
Public registration and login
SSL Certificate Included

£

95

per year

Modules
HTML Content
News & Notices
Mailing List
Events Diary
User Comments
Message Boards
Photo Gallery
RSS News Feeds
Yahoo! Site Search
Custom modules/functionality
E-Commerce Features
Unlimited products
—
—
—
User-definable product options
—
—
—
Option-based pricing
—
—
—
Trade pricing
—
—
—
Gift vouchers
—
—
—
Delivery calculations
—
—
—
Basic stock management
—
—
—
WorldPay intergration
—
—
—
PayPal intergration
—
—
—
Intergration with other payment gateways
—
—
—
Order tracking for customers
—
—
—
Easy order processing
—
—
—
Custom functionality
—
—
—
Interested?
If you're ready to chat about what Hiltonian Media can do for you, give us a call on +44 191 303 8 403 or email enquiries@hiltonian.com. We'd love to hear from you!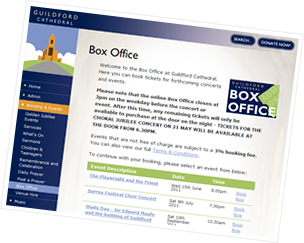 Box Office Edition
Maximise ticket revenue with Hiltonian Media's web-based Box Office & Ticketing Management Software. Ideal for concert venues, cinemas, civic spaces, cathedrals and anywhere that hosts events that require ticket bookings (paid or free).
Developed for Guildford Cathedral in 2010, it is now available for all our customers. Please contact us for pricing information a demonstration.
White Label
If you design websites and require a Content Management System for your customers that can be tailored to your exact requirements, please get in touch with us. No technical knowledge is required, and full reseller support is provided. Call us on +44 191 303 8 403.
Related Services